I've been using Convertkit for a few years now. When I couldn't get the functionality I wanted from Mailchimp, I set out on a fairly intensive search for a new provider. It was frustrating spending hours and hours having to duplicate so much of my work.
The other key thing that convinced me to switch to ConvertKit from Mailchimp a few years ago is that with Convertkit, one subscriber is one subscriber – no matter how segments/lists/tags are applied to the subscriber.
When I made the switch to ConvertKit, the company was fairly new. What impresses me and keeps me onboard is how they are consistently expanding the functionality for creators/creatives of all kinds – writers, artists, musicians, filmmakers, and other awesome makers.
My work and play involve so many facets in different seasons. I write. I facilitate. I connect. Some know me as an author, a freelance writer, a publisher, a writing coach. Others connect with me as a Creative Transformation and Awakening Guide, and as a facilitator of life-shifting conversations and events. As a multifaceted, multidimensional healer-artist entrepreneur, I rely on systems that keep it easy for me. The platform is clean, uncluttered, and refreshing for a user. When I'm in Convertkit sending emails, setting up landing pages, and creating automations, I don't get stimulation overload!
Last year I checked out other email marketing systems, including Mailchimp, just to see. It's good to evaluate your systems periodically. They can make or break how easy it is for us as creatives. And you know we all have enough other things to handle without getting bogged down by the tools that are supposed to support us!
After a week of research, I happily continued with ConvertKit.
The main thing I love? It is a clean, clear platform that serves its community.
They aren't trying to be all things to all people or all types of companies and brands.
They don't fill up the platform with excess and noise. Ah, now that's beautiful! There are a nice number of options for forms, landing pages, and branding. But not so many that you get dizzy or lost. Keep it SIMPLE!
As a creator, I was looking for a way to communicate that did not overwhelm me or my audience. There was certainly a learning curve. I won't lie – there was a fair amount of frustration on my part at the beginning (because even though I did not like Mailchimp, I was used to it.) (Not a good enough reason to stay!)
Thankfully, ConverKit in 2022 HUGELY supports their customers. They've created loads of excellent resources, videos, online classes, and tons of answers and examples to inspire and simplify your process.
So, if you are looking for a new email marketing platform for creators or to get a fresh start with your email, I really recommend checking out ConvertKit. Here's my link if you'd like to visit their site.
They are offering a FREE MONTH to try it. A month is great because you can actually test it! And they have a lot of other bonuses if you try it out in July 2022.
My favorite thing? When you sign up for some of their educational emails, they spotlight creatives in different industries showing ways to use ConvertKit you might not have considered for your own venture.
This is the first time I've offered my affiliate link. I only recommend items or companies I feel add real value, honor their clients and customers, and keep it real. ConvertKit has proven itself to me for a few years now. They listen deeply to feedback. They've made cool improvements this year, so it feels like the right time to share what I feel is a very valuable email marketing platform for creators.
One of the things I love best is that I can now sell products and services directly through ConvertKit. I create landing pages and sell copies of my books, classes and workshops I lead, memberships and subscriptions, and many other things. In the past, I tried some other things like Payhip.
My experience gets better and better as a creator using ConvertKit because they continue to improve functionality and keep it simple for us as the creators.
When I was with Mailchimp, it was way too complicated to streamline unless you paid a lot for certain upgrades.
While ConvertKit isn't free, I find it very affordable for all the functionality – and all the potentiality! Even though I've been a customer for a few years, I'm only truly beginning to use it in a way that takes advantage of the many features included in the regular subscription price.
If you try it out, let me know. I'll share a few tips to help you dial in faster.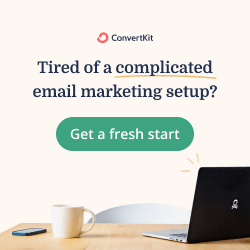 Much love,
Andrea Mai